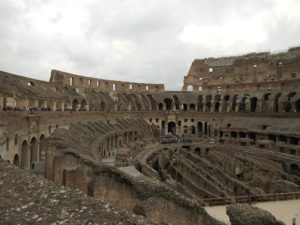 I guess this would be considered the boy's locker room by today's standard. While researching the Colosseum in Rome, I discovered plenty of things that I took for granted about gladiator fights.  And then I realized how we've been duped by Hollywood.
Contrary to what the movies always show, not all gladiators were slaves nor did they always fight to the death. It's too expensive to have a dead gladiator, especially after training and investing in these guys. It made no economical sense to exterminate the guy.
The "thumbs down" probably didn't mean death even. Interestingly, there were also women gladiators.
These guys were even celebrities and icons.
Now we know…