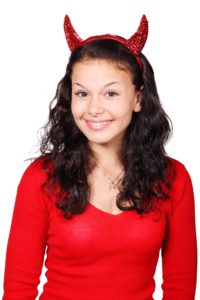 I was walking down the street just now when I suddenly heard a little girl whining.Then came the mother's voice telling her to stop embarrassing herself in public.
I continued walking toward the traffic light and waited for the signal to change. The whining drew closer. I turned and saw the little girl pulling her mother's arm, pleading for something. The mother, hiding under an umbrella from the day's heat, ignored her daughter.
I could hear my little voice screaming, "Stop whining, will you! There's enough noise in the world already!" But of course, I didn't say anything. I just stood there with that angelic face and pretended I was listening to a choir.
As I waited to cross the road, I noticed a book in the little girl's other hand: Enid Blyton's A Book of Naughty Children.
I tell you, it t took a lot of strength to restrain that bubble of laughter.