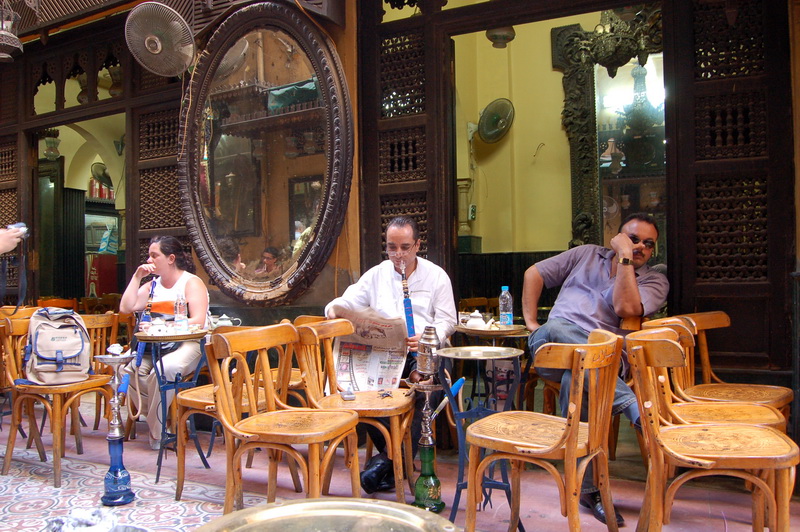 This is where it all began. At the El Fishawy Café in Cairo, Egypt.  The establishment is almost 200 years old, thereabouts. I patronized this place daily when I used to work for a magazine in Cairo. It's like the center of the world.  You'll meet tourists from all over … and locals too.
The décor is simple but it  exudes an extreme level of charm, like a drug that invites you to come back and taste it again and again. It is hard to resist.  If you are someone who appreciates the arts or possess a romantic soul, you'll understand what I am talking about.  If not, there's always the museum of antiquity and the pyramids of Giza.
The café operates 24 hours a day and can be found in the midst of the bazaar's labyrinth in the El Hussein district. This is old world charm meets iPad and laptops, and your friendly Egyptian smoker who is puffing, drinking tea and who  keeps abreast of world events with a newspaper in his hands.
I have had my fair share of adventure at this place, from the time one of the senior waiters tried to get me married to a girl working at a nearby shop.  There was also the time I ended up at the police station accused of taking photos of a female customer that riled her boyfriend. False allegation. At the police station, I was told to leave while the boyfriend who filed the complaint was given a telling off by the commander for exaggerating.
Another waiter asked me to change a $US100 bill with him, which turned out to be a lousy piece of counterfeit. I discovered this when the bank teller told me that I just got scammed. Well, at least I got my real money back from the waiter who then accused a Jordanian customer of giving it to him to settle his bill at the café. One day the Jordanian came back to the café, and he was apprehended by the police.  Unfortunately, it was a case of mistaken identity. The accused showed the entry stamped date on his passport. The incident had occurred before the man arrived.
At this café, the inspiration came to write the beginning of the novel.  The day I met a Libyan diplomat and a Sudanese man dressed in a garb. Characters.  Well, I have said enough. Read the book to learn more. Thanks.
[Photo: RAFFAELE NICOLUSSI]