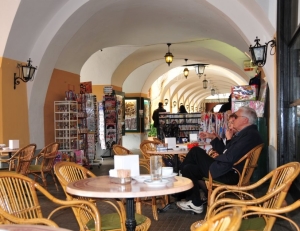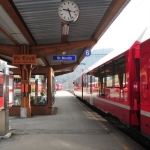 Legend has it that if you make a wish at the Trevi fountain, it will culminate in a blessing. So the story goes.
Unfortunately I didn't get a chance to visit Rome (perhaps next time), but a trip to Lake Como and Venice made me realize that miracles can happen anywhere, anytime. You don't have to drop coins into a fountain for things to happen, if it's meant to be.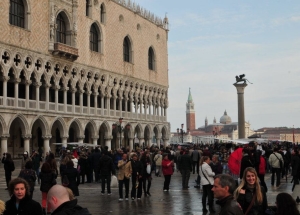 After a week in Bellagio, Lake Como, I decided to spend a few days hiking and exploring St Moritz. But then I realized I had forgotten to take my pocket camera. Although I had an SLR with me, the pocket camera would have spared the burden of carrying the big camera and its equipment during my hiking adventure. I just couldn't remember where I placed it. Complete blankness. I tried to retrace my steps and I was sure it wasn't back at the hotel in Bellagio. Where did I leave it?
Upon my return, I stopped at my regular haunt, Café Rossi in Bellagio, for cappuccino. I asked one of the waitresses if she had found a silver-colored camera, I may have possibly left it here. The young woman replied excitedly that the camera had indeed been found by another waitress named Francesca. But she was off duty and so I would have to wait till the next day.
Francesca showed up the next day with my camera. I asked her how she knew the camera belonged to me and she said she recognized me in some of the photos when she turned it on. What luck!
Days later, as I took the train from Varenna to Milan and then to Venice, I wondered what adventures lie ahead. Venice was dreamy and magnificent, an extraordinary place that you must visit at least ten times in your life. I had almost decided not to visit her, but I was encouraged by a relative to go before it sank.
I was pleased to have seen some of the more famous sites of the city in between pizzas and gelato. I spent my days walking and exploring, shopping and people watching (and trying very hard to sleep as drunken revelers in Gondola passed by my window at 3 am singing out of tune Sopranos.
I couldn't resist buying a few of the famous Venetian handmade party masks during my shopping expedition. It was a good thing that I learned quickly how to differentiate between a handmade one and a China-made piece.
On my way back to Singapore via Milan airport, I found myself in a scary position. After going through immigration counter, I suddenly discovered that I did not have my haversack with me. The bag contained cash, a new watch for my mom, and a super Nikon camera. I approached one of the officers and sought his help. He advised me to stay put as he went to search for it. But all he did was chat casually with another officer as he made me stand in the middle of the floor. Keep calm, I said – do not panic. Have faith things would find its way back to you, if it's meant to be.
A good five minutes or more must have passed when the officer suddenly noticed me and gestured me to follow him into an office. Inside, I saw my haversack on a desk. Behind it, another officer sat. I was asked to reveal the contents of the bag (standard procedure to check if I am the real owner). So I did.
The first officer then handed the bag to me. His friend then walked around the desk towards me with a stack of cash in his hand. Mine. He said something in Italian and although I could not understand a word what he was saying, I assumed he was asking for a finder's fee. But it was not until the man held out his hand with the cash in it that I realized that he was trying to return it to me. Naturally, when he opened the bag to probe its content, he had found the money. And so I left Italy a happy person.
When I returned to Singapore, I realized I had forgotten my laptop in the airplane's compartment. Tired, I did not even bother to fuss about it. I left the airport with the same attitude that somehow if it's meant to be, the laptop — like the camera, the money, the watch and the pocket camera —  would return to me.
The next day I called the airline to check if anyone had found my laptop. Apparently someone did, and it's sitting in the airline's office at the airport, waiting for me to collect.
How's that for luck?