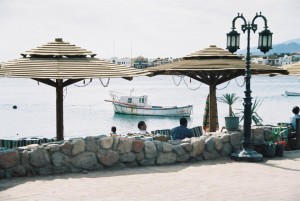 I read in Al Arabiya that another person has died of a  shark attack in the Red Sea. A German tourist.
Years ago, I spent a few days at Hurghada, Egypt, and stayed at the Marriott. I rented a canoe at the boathouse but I was told to stay inside the lagoon only.
Stubborn, I began to paddle out to sea – the Red Sea. I paddle so far that I couldn't even see the hotel anymore. I got tired after a while and decide to head back, hoping the chopping waves would push me back. That was the plan. However, I found myself unable to turn the canoe no matter how hard I tried. The wind was too strong.
Eventually, a passing yacht saw me in distress and came to my rescue. Looking back, I'll never do it again and I learned a good lesson: Always pay attention to instructions. I was lucky, very lucky. The Red Sea, despite all the Mediterranean glamour around it, can be a treacherous place.