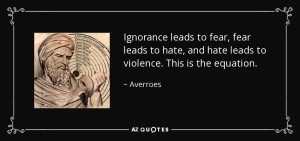 Confession: I used to be afraid of travelling to Turkey. Even though I have some distant relatives over there, that movie "Midnight Express" freaked me out. Then again, so did The Exorcist.
I realized eventually the movie was exaggerated in many ways. Turkey is a beautiful and colorful country. Thankfully, the real Billy Hayes qualified and explained himself in relation to the time he spent in prison there.
As Saint Augustine said: "The world is a book and those who do not travel read only one page."  
The monks in Europe used to travel to the Middle East to study at the Islamic universities during a time when books were banned. It was the "Burning of the Book" era, and if I am not mistaken, this took place in Europe somewhere in the 14th century.
In fact, when Napolean Bonaparte colonised Egypt, he took some aspects of Shariah and superimposed it into the French Civil Law with modifications, of course.
Or as Averroes (Ibn Rashid), a medieval Arab scholar from Andalusia, Spain, tells us:  "Ignorance leads to fear, fear leads to hate, and hate leads to violence. This is the equation."
p.s. it works both ways.