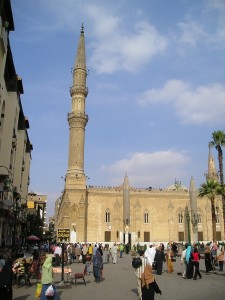 I used to frequent the 200-year-old El Fishawy café in Cairo.  The waiters knew me well. On one occasion a senior waiter asked me to change an American hundred dollar bill with him. The note belonged to another customer who didn't have the local currency to pay his bill.
The next day, I went to the bank to convert the bill. But the teller did something strange: He returned it back to me. He told me I was in possession of a fake. The teller rubbed the paper with his fingers, proving how easily the ink came off. I was surprised he didn't have me arrested. I could have been the counterfeiter.
So I went back to the waiter and told him what happened. The waiter, upset, took back the bill and promised to return my money. He did.
Some days later at the café, the waiter told me to accompany him and a few others to the police. The forger had been caught. My role was simple: Tell the police what the bank teller told me.
The man they caught was a middle-aged Palestinian-Jordanian. He appeared calm and composed as he listened to their accusations.  Fingers pointed at him, voices were raised. Everyone swore he was the wrongdoer. They were cocksure.
The accused then pulled out his passport from his jacket pocket and asked one of the officers to check the entry stamp. The man had only arrived a few hours ago.
Wrong guy.