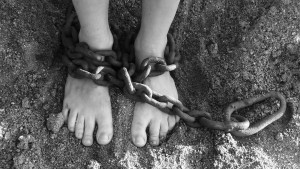 A few years ago, at about 4 a.m., I was sitting at the back entrance of a relative's cafe having a cup of coffee and a water pipe when I heard a commotion. I looked out the quiet back street and saw a man shaking a woman.
The woman yelled for help. I alerted everyone, and a big group of guys approached the couple.
As we neared them, the woman looked at us and exclaimed, "He tried to rape me!" We were all stunned.
The man then turned to us, his face covered in blood, and said, "She's my wife! She hit me with a bottle!"
We brought the couple back to the cafe. We found out they had gone to a club. The woman had argued with her husband, she got tipsy, and started flirting with other men. Naturally, the husband reacted. So he insisted they go home. As he tried to take her out of the club, she hit him with the bottle.
The man's account was the truth. When he sat down at the sofa and related the incident, his wife removed one of her shoes and hit him in the head. He did not react. The woman was more aggressive and violent than the man.
The point I am trying to make is this: Don't be so quick to judge what you hear or what you see. It is so important to check your facts and verify your information and sources.
This goes for many things. What you read or see in the news may have a different impact in a court of law. Sometimes the newspapers decide to judge a person, a community or a country but when it is given due process in a court of law, things can play out differently.
Nothing is perfect, of course, but just don't be so quick to point a finger.