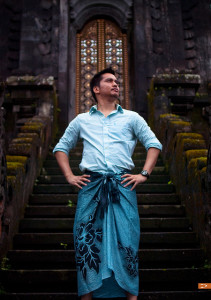 I was in Kuala Lumpur recently, just for an overnight stay. I didn't bring much clothing with me, and I only had one pair of trousers – the one that I wore.
Unknown to me, the back had ripped open, which I found out much later after someone alerted me. Thankfully, I had brought a sarong along, for in case situations. It's light, easy to slip into a bag. No hassle.
So I put it on at the hotel and decided to go out and shop for a new pair of trousers.
The people who were with me on that trip commented if I was serious about going out like that. I didn't think anything of it, especially since the sarong is part of the Malaysian culture.Big deal. How wrong I was.
The moment I stepped into the mall, everyone made me feel like I had rabies. All eyes were on me. You could read their minds, like they were saying, "Which century are you from, man?"
I kept apologizing to every onlooker as I past them and explained that my pants had split, and that I am here to buy a new one. Cultural faux pas. You don't go to a super cool mall in Malaysia wearing a sarong.
[photo: 1 World Sarongs]