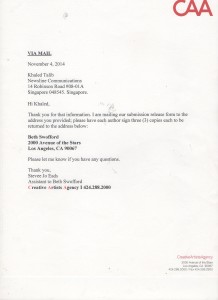 Every time someone finished reading my novel Smokescreen, they'll tell me it feels like a movie. Some reviewers have also said the same. I have been keeping this quiet for a while because I wasn't sure if it was going to happen or not.
But some months ago, a copy of my novel was given to one of Hollywood's biggest movie directors, Paul Greengrass, who worked on two of the Jason Bourne series: The Bourne Ultimatum and The Bourne Supremacy.
The novel was given to him by Beth Swofford, Creative Artist Agency's motion picture agent. Today, after so many months, I received an email from Beth Swofford saying Greengrass has decided to pass the idea of turning the book into a movie. He read the novel. This is Hollywood. It happens, it doesn't, maybe it will, maybe not. But more importantly, a big name in Hollywood read my novel. That is good enough for me.