Smokescreen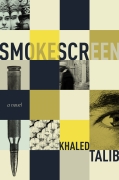 The Plot to Assassinate the Israeli Prime Minister
Singapore reporter Jet West becomes a scapegoat in a plot to assassinate the Israeli Prime Minister.
Order Now!
About the Book
At an ancient café in Cairo, two veteran spies plot a covert mission to resolve — once and for all — the Israeli – Palestinian conflict. The pledge: Israel will make a major concession as part of the peace treaty.
In Singapore, Jethro Westrope, a magazine journalist, stumbles onto the scene of a murder: the beautiful Niki Kishwani directs him, in her last breath, to a digital recorder, evidence that puts Jethro's life in serious danger. And, much worse, he is framed for Niki's murder. Jethro sets out to find Niki's killer and is drawn into a web of deception and intrigue involving officials from the Singaporean, Israeli, and American governments, each with a complex, competing, and potentially deadly agenda.
Against this pulse-pounding backdrop, Jethro races to find answers and save himself —yet nothing is as it seems. He finds himself at the centre of a political plot so diabolical and sweeping in its world implications that he is stunned to discover tomorrow's news headlines today. He is being set up not only as a murderer but as an assassin, and something much larger than his own fate is in his hands.
Endorsements
Devious! Diabolical! Lurid! Intelligent and deftly plotted. Pick it up if you dare. Put it down if you can.
– Ruth Harris, million-copy New York Times Bestselling co-author of Hooked and Brainwashed
Khaled Talib's novel Smokescreen is a cocktail of Deighton, Ludlum, Hitchcock, and two parts adrenaline.
– Keith Thomson, author of the New York Times Bestselling novel Once A Spy
n this action-packed thriller, Khaled Talib explores the little-known relationship between Singapore and Israel, spinning a web of international intrigue that expands across the globe as inexorably as it tightens around his protagonist's throat.
– Jon McGoran, author of Drift
Disclosure of Material Connection: Some of the links in the page above are "affiliate links." This means if you click on the link and purchase the item, I will receive an affiliate commission. I am disclosing this in accordance with the Federal Trade Commission's
16 CFR, Part 255
: "Guides Concerning the Use of Endorsements and Testimonials in Advertising."