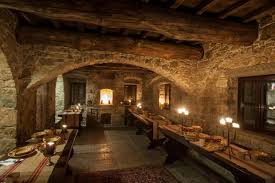 When I was 15 I used to cycle a lot. I even teamed up with a few others to explore the island. I would usually follow the leader as I was unfamiliar with the roads. On one occasion, I accepted a friend's invitation to visit his home after school in the evening. I was accompanied by another friend, and it turned out to be one of the strangest journeys ever.
This was back in the 1980s when John Travolta's Night Fever posters were still everywhere. There we were, three guys on a bicycle cruising the back roads of Singapore in the stale night air, wracked by my friend's hauntingly continuous laughter.

I had no clue where I was going. I remember arriving somewhere dark and quiet, tree lined and featuring row houses. It was pretty far from school.

My friend rapped on the door and someone opened it from inside. A woman. It gets interesting now …

Inside, I found myself in a long, wood-paneled interior, with lighted candles on wall scones. I thought I was in a Benedictine monastery. A wooden staircase gave access to the upper floor. And you won't believe where dinner was served – on a Monk's long wooden dining table. The food was laden as if a hundred people lived there. My friend kept laughing as we ate.

I did not hide my curiosity. The strong smell of wood furniture commingled with the salted fish on the plate. That evening was different. Mystical.

I found out much later where my friend lived. Well, I don't want to mention the name of the road because people in Singapore know exactly what that area is famous for. So I have taken a vow of silence. Let's just say I don't think this place will ever be as famous as that book and musical by author Larry L. King.